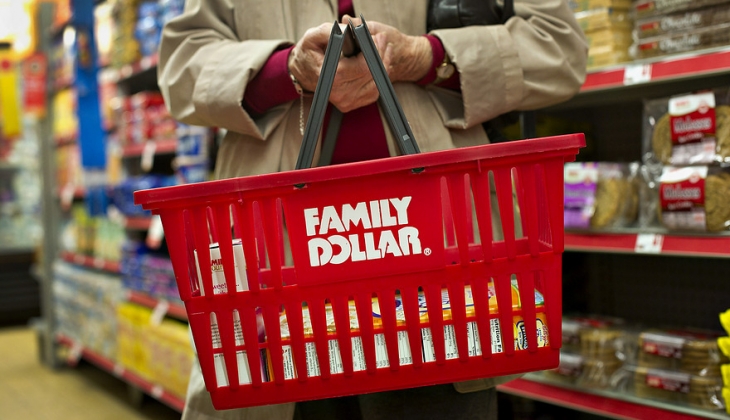 Nowadays it's easy to buy every kitchen and household essentials you needs with weekly catalog opportunities.
Family Dollar one of the supermarket chains in USA, are announced new weekly catalog products from Dec 18th to Dec 24th, 2022 with smart coupon and discount prices.
If you need any thing and want to benefit this week's catalog chances, you can come and buy or online shop.
Here are the Dec 18th - Dec 24th, 2022 catalog products price list:
Dr Pepper Products: sale 3 for $11.00 with $1 smart coupon
Pepsi Products: sale 3 for $12.00
Chips Ahoy!: sale 2 for $6.00
Post Family Size Cereal: sale 2 for $7.00
Scotch Transparent Tape 2 pk., Wrapping Paper Cutter or Wrapping Paper: your choice $1.00
Lay's: sale 2 for $6.00
Doritos: sale 2 for $6.50
Foil Pans: buy 1, get 1 50% off
Scott 1000 Bath Tissue: buy 1, get 1 50% off
Mott's Juice 64 oz. or 8 oz., 6 pk. or Applesauce 4 oz., 6 pk.: sale $1 off 2 with smart coupon
Simply Lemonade or Orange Juice: sale $1 off 2 with smart coupon
Tostitos: sale 2 for $6.50 with $1 smart coupon
Tostitos Salsa or Con Queso: sale $1 off with smart coupon
4.1 Home Theater System: sale $5 off with smart coupon
Jiffy Corn Muffin Mix: $0.75
Chestnut Hill Canned Vegetables: sale 3 for $2.00
Campbell's Condensed Cream Soup: sale 2 for $3.00
Heinz Homestyle Gravy: sale 2 for $3.50
Sister Schubert's Dinner Yeast Rolls: sale 2 for $8.00
Edwards Chocolate Créme Pie: sale $6.00
Kraft Jet-Puffed Marshmallows: sale 2 for $2.50
Bruce's Cut Yams: $2.65
Knorr Pasta or Rice Sides: sale $1.00 with $0.25 smart coupon
Stove Top Chicken Stuffing: sale 2 for $4.50
Nestlé Carnation Evaporated Milk: sale $1.50
Chestnut Hill Confectioners or Light Brown Sugar: sale $1.75 with $0.25 smart coupon
Betty Crocker Delights Brownie Mix: sale 2 for $4.50
Nestlé Semi-Sweet Morsels: sale 2 for $5.00
Chestnut Hill Granulated Sugar: sale $2.25
Chestnut Hill Vegetable Oil: sale $3.60 with $0.25 smart coupon
Nestlé Tollhouse Chocolate Chip Cookie Dough: sale 2 for $6.00
Foil Pans: $1.25
Pam Cooking Spray: sale $3.25
Cool Whip: sale 2 for $4.00
Father's Table Variety Cheesecake: sale $7.95
Sleepwear for the Family: buy 1, get 1 free
L. O. L. Surprise Tot: $5.00
L.O.L. Color Change Surprise or Craft Set: your choice $10.00
L. O. L. Surprise Confetti: $16.00
L.O.L.O.M.G. Fashion Doll: $25.00
L. O. L. Surprise Winter Chill Doll: $30.00
Nerf Elite Tetrad: $10.00
Nerf Elite 2.0 Commander: $14.00
Nerf Mega XL Big Rig: $18.00
Nerf Mega XL Boom Dozer: $30.00
Mickey or Minnie Singing Plush or Electronic Music Mat: your choice $15.00
Diecast Car Carry Case with 8 Cars, Fun Tub Baby Doll, Dinosaur Flexi-Track, or Fashion Doll Wardrobe Set: $10.00
PJ Masks Mega Mighties: $11.00
Hats, Underwear 1-2 pk., or Cinch Bags: $5.00
Slippers or Mini Backpacks: sale $5.00
Sentry Cords, Metal, Two-Tone Earbuds or Wireless Earbuds: your choice $5.00
Sentry Deep Bass Headphones & Earbuds Set 2 pc. or Fisher Total Wireless Combo Earbuds Set: $10.00
Samsung A03: sale $93.00
Tissue Paper: $1.00
Large Gift Bags: $1.00
XL Gift Bag: $2.00
Small Gift Box: $1.00
Medium Gift Box: $4.00
Large Gift Box: $6.00
Garland, Tree Skirts, Tree Toppers, Ornaments or Light Sets 250 ct.: 50% off
Pre-lit or Unlit Trees: 25% off
Scented 3-Wick Jar Candle: sale $5.00
Interiors by Design Printed Plush Throw: $5.00
Interiors by Design Faux Fur, Shaggy Fur, or Plush to Sherpa Reversible Throw: $15.00
Compact Portable Heater: $22.00
Comfort Zone Electric Utility Heater: $35.00
Febreze Air Effects 8.8 oz. or Small Spaces. 25 oz.: sale $2.25 with $1 smart coupon
Lysol Wipes: sale $1 off 2 with smart coupon
Arm & Hammer Liquid: sale $2.95 with $1 smart coupon
Xtra Liquid: sale 2 for $5.00
Tide Simply Liquid 75-92 oz. or Pods 32 ct.: sale $7.25 with $1 smart coupon
Angel Soft Bath Tissue: sale 2 for $9.40 with $2.50 smart coupon
Poise Pads 12-30 ct. or Liners 48 ct.: sale 2 for $10.00
Pedigree Dry Dog or Puppy Food: sale 2 for $12.50
Kibbles'n Bits Dry Dog Food: sale $11.00 with $0.75 smart coupon
Homeline Disinfecting Wipes: $2.50
Homeline Premium Everyday Napkins: $2.50
Homeline Plastic Cutlery: $6.00
Homeline Food Storage Bags: $2.50
Homeline Bleach Cleaner: $2.65
Homeline Disinfectant Spray 19 oz.: $5.00
Homeline Foam Plates: $4.25
Homeline Printed Paper Plates: $5.25
Clorox Bleach: sale $3.00 with $0.75 smart coupon
Lysol Laundry Sanitizer: sale $5.85 with $1.50 smart coupon
All® Liquid: sale $6.00 with $2 smart coupon
Pledge Furniture Spray: sale $4.50 with $0.75 smart coupon
Clorox Clean-Up Spray or Disinfectant All Purpose Cleaner: sale 2 for $7.00
Homeline Dish Liquid: sale $3.00
Queen Anne Chocolate Covered Cherries: $2.25
Gingerbread Kits: starting at $5.00
Holiday Gift Set: $10.00
Munch King Caramel 20 oz. or Cheese Barrel 17 oz.: $5.50
Swiss Miss Hot Cocoa Mix: sale 2 for $4.00
Hostess Holiday Multipacks: $3.75
Monster or Reign Energy Drink: sale 3 for $7.00
Coffee Mate Single Creamers: sale 2 for $7.00
Green Mountain, Dunkin', McCafé, or Donut Shop K-Cups: $8.00 when you buy 2
If you want to look opportunity catalog detailed with website link: http://www.familydollar.com/weekly-ads