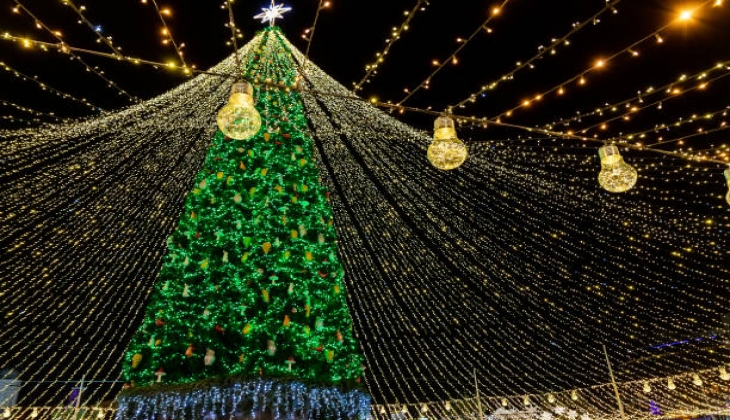 Catch up to $300 discount opportunity on christmas ornaments for your house.
Christmas one of the biggest fun for people, is celebrated with great enthusiasm and excitement. People care about this day and value about it. In addition, they want to celebrate by decorate their house or room.
The Home Depot stores are announced many elegant and remarkable christmas ornaments with up to $300 sale prices for people who want to buy these to fun.
Here are the christmas ornaments price list:
Home Accents Holiday 7.5 ft Maysville Pine Christmas Tree: $199.00
Save $ 120.00
Deals price: $ 79.00
Home Accents Holiday 7.5 ft Redvale Pine LED Christmas Tree: $129.00
Save $ 50.00
Deals price: $ 79.00
Home Decorators Collection 7.5 ft Waldorf Fir Christmas Tree: $799.00
Save $ 300.00
Deals price: $ 499.00
Home Decorators Collection 7.5 ft Twinkly Swiss Mountain Fir Christmas Tree: $599.00
Save $ 100.00
Deals price: $ 499.00
Home Accents Holiday 9 ft Santa With Countdown Calendar: $69.88
Save $ 20.88
Deals price: $ 49.00
Home Accents Holiday 9 ft Alta Flocked LED: $399.00
Save $ 120.00
Deals price: $ 279.00
Home Accents Holiday 5 ft Sushi Santa and Penguins Holiday Inflatable: $129.00
Save $ 50.00
Deals price: $ 79.00
Home Accents Holiday 48 in Prelit New Winslow Fir Wreath: $89.98
Save $ 30.98
Deals price: $ 59.00
Home Accents Holiday 12.5 ft by 12 ft Santa Archway Holiday Inflatable: $179.00
Save $ 50.00
Deals price: $ 129.00
Home Accents Holiday 5 ft 2 Dogs With Candy Cane Holiday Inflatable: $59.98
Save $ 20.98
Deals price: $ 39.00
14 ft Santa in Boat Fishing Holiday Inflatable: $129.00
Save $ 40.00
Deals price: $ 89.00
6 ft Baby Sven With Snowflake Holiday Inflatable: $179.00
Save $ 50.00
Deas price: $ 129.00
Airblown 11.5 ft North Pole Express Train Holiday Inflatable: $159.67
Save $ 30.67
Deals price: $ 129.00
Gemmy 8 ft Gnome With Christmas Tree House Holiday Inflatable: $149.00
Save $ 50.00
Deals price: $ 99.00
Gemmy 6.5 ft Santa and Dog in Snow Globe Holiday Inflatable: $179.00
Save $ 50.00
Deals price: $ 129.00
4 ft. H x 6 ft. W Pre-Lit LED Campfire Santa with Reindeer Christmas Inflatable: $99.00
Save $ 20.00
Deals price: $ 79.00
4.8 ft. H x 6 ft. W Pre-lit LED Penguins with Swirling Lights Snowball Christmas Inflatable: $69.98
Save $ 20.00
Deals price: $ 49.98
Home Accents Holiday 36 in Prelit Royal Easton Wreath: $69.98
Save $ 20.00
Deals price: $ 49.98
Who want to look cut-rate detailed with website link: http://www.homedepot.com/b/Featured-Products-Holiday-Savings-Holiday-Savings/N-5yc1vZ2fkpcp0