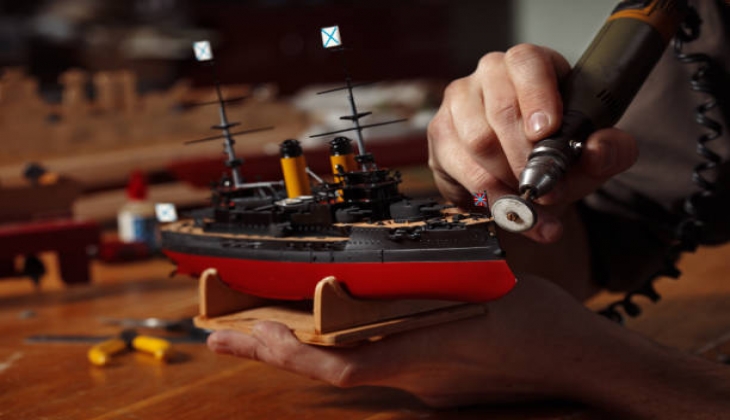 You can buy and do any mode kit, and can paint color you want with this week's catalog opportunities.
Hobby Lobby one of the store chains in USA, are continue to publish new catalog every week. This week's catalog products are included many different model kit for fun and hobby. Moreover, these kits are selling up to 40% big discount prices. From car kits to many plane kits, battleships to truck kits, tanks kits to transformers kits and other all figure kits.
Thanks to these kits can give shapes what you want and can paint colour what you want while you spend time with pleasure.
Here are the model kits price list:
Land Rover Series III 109 Model Car Kit: $34.99
40 % off
Deals price: $ 20.99
Ford '29 Model A Roadster Model Car Kit: $39.99
40 % off
Deals price: $ 23.99
1957 Ford Thunderbird Model Kit: $39.99
40 % off
Deals price: $ 23.99
RX-78-2 Entry Grade Gundam Model Kit: $8.99
40 % off
Deals price: $ 5.39
World War II Plane Quick Build Model Kit: $19.99
40 % off
Deals price: $ 11.99
World War II Fighter Model Kit: $27.99
40 % off
Deals price: $ 16.79
Ford GT Le Mans 2017 Model Kit: $29.99
40 % off
Deals price: $ 17.99
Big Rig Semi Trailer Model Kit: $39.99
40 % off
Deals price: $ 23.99
Bumblebee Transformers Model Kit: $55.99
40 % off
Deals price: $ 33.59
MS-07B-3 Gouf Custom Gundam Model Kit: $24.99
40 % off
Deals price: $ 14.99
Star Wars X-Wing Starfighter Red5 Model Kit: $39.99
40 % off
Deals price: $ 23.99
My Hero Academia Izuku Midoriya Model Kit: $19.99
40 % off
Deals price: $ 11.99
Auto Art Stamp Series Car Model Kit: $36.99
40 % off
Deals price: $ 22.19
Iron-Blooded Orphans Bael Gundam Model Kit: $24.99
40 % off
Deals price: $ 14.99
Lamborghini Terzo Millenio Model Kit: $29.99
40 % off
Deals price: $ 17.99
2008 Dodge Challenger SRT8 Model Kit: $24.99
40 % off
Deals price: $ 14.99
Star Wars The Mandalorian Model Kit: $44.99
40 % off
Deals price: $26.99
Star Wars The Mandalorian Razor Crest Model Kit: $19.99
40 % off
Deals price: $ 11.99
Republic F-84F Thunderstreak Jet Model Kit: $29.99
40 % off
Deals price: $ 17.99
Death Star II & Star Destroyer Model Kit: $25.99
40 % off
Deals price: $ 15.59
1968 Volkswagen Beetle Model Kit: $37.99
40 % off
Deals price: $ 22.79
Super Saiyan God Son Goku Model Kit: $12.99
40 % off
Deals price: $ 7.79
1978 Ford Firestone 4x4 Pickup Truck Model Kit: $29.99
40 % off
Deals price: $ 17.99
Who want to look cut-rate detailed with website link: http://www.hobbylobby.com/Crafts-Hobbies/Hobbies-Weekly-Ad/c/dc-hobbies-weekly-ad