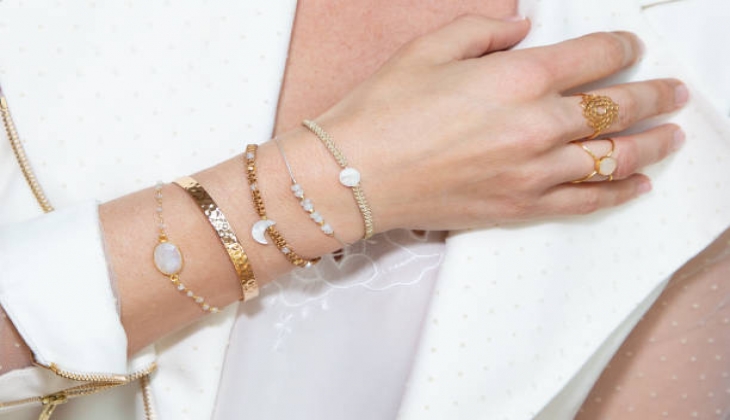 If you are a woman, and need to a bracelet, you're possible to have with up to 78% discount in JCPenney.
Bracelets one of the necessary and elegant jewelries for women, are have suitable designs for everywhere or every apparels. According the make researches also, women usually prefer useful and nice bracelets daily life.
JCPenney stores are announced women bracelets with up to 78% discount prices for all women's taste and need.
Here are the discount women bracelets prices:
Itsy Bitsy Healing Stone Sterling Silver 7 Inch Cable Round Chain Bracelet List: $42.00
Save %70
Deals price: $12.60
J.P. Army Men's Jewelry Dad Stainless Steel Strand Bracelets L,st: $50.00
Save %76
Deals price: $11.99
Footnotes Dream Pure Silver Over Brass Cord Bracelets List: $34.00
Save %70
Deals price: $9.99
Footnotes Mother And Daughter Stainless Steel Heart Round Bangle Bracelet List: $60.00
Save %78
Deals price: $12.99
New!Sparkle Allure Breast Cancer Awareness 14K Gold Over Brass 7 Inch Semisolid Link Round Bangle Bracelet List: $45.00
Save %71
Deals price: $12.99
Disney Classics Silver Tone Stainless Steel Solid Minnie Mouse Bangle Bracelet List: $60.00
Save %78
Deals price: $12.99
J.P. Army Men's Jewelry Stainless Steel 8 1/2 Inch Box Oval Chain Bracelet List: $50.00
Save %76
Deals price: $11.99
Footnotes Amethyst Pure Silver Over Brass 8 Inch Cable Bolo Bracelet List: $60.00
Save %70
Deals price: $17.99
Sparkle Allure Leather Cubic Zirconia Pure Silver Over Brass Braid Heart Charm Bracelet List: $56.00
Save %76
Deals price: $12.99
Itsy Bitsy Cubic Zirconia 14K Gold Over Silver 9 Inch Cable Ankle Bracelet List: $42.00
Save %70
Deals price: $12.60
Silver Treasures Initial Pure Silver Over Brass 7 Inch Cable Link Bracelet List: $50.00
Save %76
Deals price: $11.99
Sparkle Allure Empowerment Amethyst 14K Gold Over Brass Bar Beaded Bracelet List: $68.00
Save %75
Deals price: $16.99
Footnotes Rose Gold Plate Over Brass Jasper 8 1/4 Inch Bead Bar Round Beaded Bracelet List: $60.00
Save %70
Deals price: $17.99
Disney Classics Crystal Pure Silver Over Brass 8 1/2 Inch Link Infinity Mickey Mouse Bolo Bracelet List: $60.00
Save %78
Deals price: $12.99
If you want to look detailed with website link:
http://www.jcpenney.com/g/jewelry-and-watches?jewelry_type=fashion+jewelry%7Cfine+jewelry&product_type=bracelets&s1_deals_and_promotions=DOORBUSTER%21&id=dept20000020&cm_re=ZA-_-GALLERY-JEWELRY-AND-WATCHES-_-VN-_-BRACELETS_4