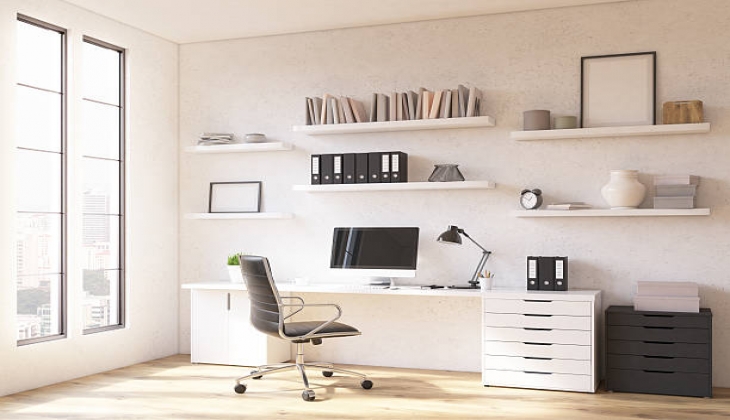 All the discounted office furnitures you need are here, and for more suitable prices.
When peoples open a office, they need to many furnitures and they want to buy these furnitures with sale prices. Last model office furnitures with up to $130 deal prices are announced sale in The Home Depot shops. These furnitures some features are many colour choices, modern or sport designs, and useful stuffs.
If you need to anything office furniture, you shouldn't miss these deals.
Here are the office furnitures price list:
69.76 in. Chestnut Wood 5-shelf Standard Bookcase with Adjustable Shelves List: $157.04
Save $30.48
Deals price: $126.56
Steel River Carbon Oak L-Shaped Desk List: $437.44
Save $131.24
Deals price: $306.20
Daria 48 in. Rectangular Natural/Black Computer Desk with Adjustable Height Feature List: $129.04
Save $34.72
Deals price: $94.32
Royce 61 in. Rectangular Polar White Executive Desk List: $889.00
Save $133.35
Deals price: $755.65
23 in. Width Standard White Leather/Gold Frame Faux Leather Task Chair List: $188.14
Save $9.41
Deals price: $178.73
Boulevard Cafe Vintage Oak and Black L-Shaped Desk List: $359.99
Save $83.82
Deals price: $276.17
69.8 in. Carbon Oak Metal 5-shelf Cart Bookcase with Doors List: $304.99
Save $76.27
Deals price: $228.72
Banting Solid Hardwood Industrial 72 in. Wide Desk in Walnut Brown List: $662.21
Save $85.25
Deals price: $576.96
Benjamin 69.3 in. Rustic Brown Wood 6-Shelf Etagere Bookcase with Sturdy Metal Frame Lisst: $220.20
Save $22.02
Deals price: $198.18
48 in. Rectangular Reclaimed Barnwood Wood and Metal 3-Drawer Computer Desk with Cubby List: $459.63
Save $84.41
Deals price: $375.22
L-Shaped Rustic Oak and Metal Industrial 2-Drawer Computer Desk with File Storage List: $527.66
Save $105.53
Deals price: $422.13
International Lux Diamond Ash L-Shaped Desk List: $381.25
Save $101.79
Deals price: $279.46
Emery 70 in. L-Shaped Gray Oak Wood 2 Shelve Desk List: $605.33
Save $54.57
Deals price: $550.76
Malone 59 in. L-Shape Black Metal Brown Particle Board Wood Top Computer Desk with Monitor Stand Rotating Shelves List: $274.39
Save $27.44
Deals price: $246.95
Height Adjustable 46 in Danish Walnut Melamine Manually Adjustable Height Desk List: $226.74
Save $22.68
Deals price: $204.06
KL Light Brown Suede Fabric Swivel Office Chair with Arms List: $273.39
Save $33.09
Deals price: $240.30
44 in. Rectangular Walnut/White Writing Desk with Built-In Storage List: $197.75
Save $44.70
Deals price: $153.05
22.4 in. Width Standard Pink Upholstery Task Chair with Adjustable Height List: $162.27
Save $29.48
Deals price: $132.79
Cacey Black File Cabinet with 4 Storage Shelves and 2 Drawers List: $263.34
Save $26.34
Deals price: $237.00
If you want to look detailed with website link: http://www.homedepot.com/b/Furniture-Home-Office-Furniture/Special-Values/N-5yc1vZc7npZ7?NCNI-5=undefined&