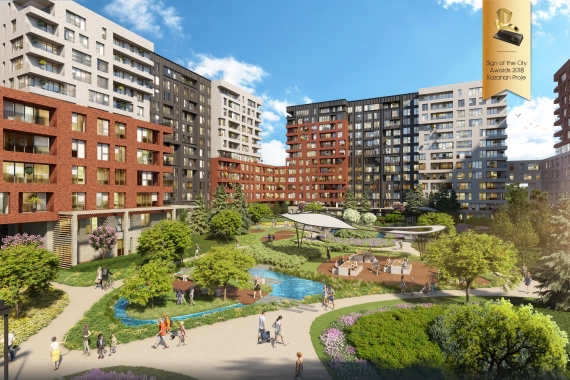 Akzirve Gayrimenkul tarafından İstanbul Topkapı'da hayata geçirilen projenin adı Akzirve Hayat oldu. Projede 2 bin 15 yerleşim birimi, 71 ticari ünite, ve 96 ofis yer alıyor.
Akzirve Hayat projesi İstanbul Topkapı'da inşa ediliyor. 2 bin 15 yerleşim birimi, 71 ticari ünite, ve 96 ofisten meydana gelen proje şimdiden dikkatleri üzerine çekiyor.

Proje alanı 130 bin metrekare, inşaat alanı 265 bin metrekare olan Akzirve Hayat projesinin yakınlarında üniversiteler, alışveriş merkezleri, hastaneler, bahçeler/parklar, havaalanları, toplu taşımalar yer alıyor.
1+1, 2+1, 2+1 Dubleks, 3+1, 3+1 Dubleks, 4+1, 4+1 Dubleks, 4,5+1 Dubleks daire seçeneklerine yer verilen projede teslimlerin 2021 yılında yapılması öngörülüyor.
Akzirve Gayrimenkul'ün Topkapı'da devam eden projesi "Akzirve Hayat" ile Sign Of The City Ödülü'ne layık görüldü. Mayıs ayında duyurulan proje, gayrimenkul sektörünün en prestijli ödülü olan Sign Of The City yarışmasında "En İyi Çok Katlı Proje" kategorisinde ödül aldı.
"Sign Of The City Awards", her sene gayrimenkul sektörünün en iyilerini belirleyerek onları ödüllendiriyor. Bu sene beşincisi düzenlenen SOTCA ödül töreni gecesi, 6 Kasım akşamı yapıldı.
"Akzirve Hayat" En İyi Çok Katlı Konut kategorisinde kazanan proje oldu. Ödül törenine katılan Akzirve Yönetim Kurulu Başkan Yardımcısı İbrahim Maasfeh "Yaptığımız her projenin katma değer yaratması ve şehrin simgelerinden biri olması için özel çaba gösteriyoruz. Gerekmimari gerekse yapı iş birliklerimizde her zaman en iyiler ile çalışmaya özen gösteriyoruz. Mayıs ayında basınla bir araya gelerek detaylarını konuştuğumuz Topkapı'daki yeni projemiz şu an bizim göz bebeğimiz konumunda. İstanbul'un değerli ve stratejik bir lokasyonunda yer alan arazimiz üzerine planladığımız proje, metropolde yaşayanların özlemini duyduğu ancak artık şehir merkezinde bulamadığı sakinlik ve dinginliğin yaşamın merkezine taşıma iddiasıyla öne çıkıyor. Komşuluk ilişkilerinin, yeşil alanların ve sosyal olanakların gerekliliğine inanarak projemizin tüm detaylarını buna göre planladık. Projenin tam kalbinde yer alan iç avlu sayesinde binalar arası mesafeler, 250 metrenin üzerine çıkan çok ferah bir anlayışla tasarlandı. Projemizin lansmanını 2019 yılı içerisinde gerçekleştirmeyi planlıyoruz.
"Özenle çalıştığımız bu projemizin, sektörün en prestijli yarışmalarından olan 'Sign Of The City Awards' yarışmasında birinci seçilmesinin mutluluğunu ve gururunu yaşıyoruz. Tüm jüri üyelerine ve projelerimize güvenerek ve bize inanarak Akzirve Strada projemizden konut alan bini aşkın müşterimize teşekkürlerimizi sunuyor ve ödüllü yeni projelerimizle onlara layık olmaya çalışıyoruz" dedi.
Akzirve Hayat'ın sosyal alanları arasında yüzme havuzları, spor salonu ve fitness merkezleri, sauna ve Türk hamamı, özel otopark, mağazalar, kafeler ve restoranlar, uluslararası ve yerel, toplantı salonları ve etkinlik salonları, çocuklar için oyun bahçeleri ve dinlenme alanları, 24 saat güvenlik sistemi mevcut.
Tel: 0212 403 03 15
Web: Akzirve Hayat


Önerilen Bağlantılar : Yeni konut projeleri