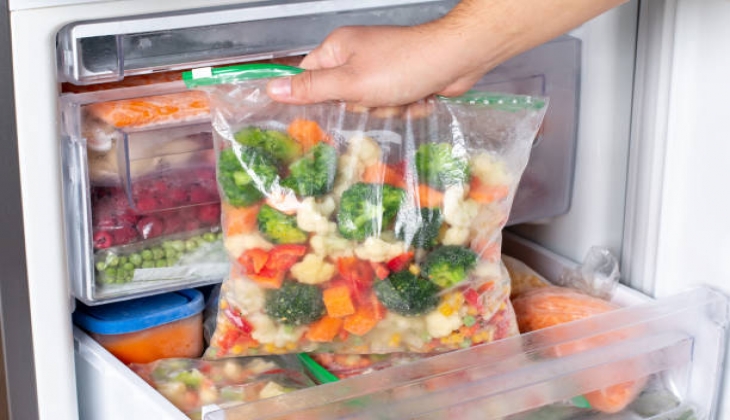 You can buy all frozen food varieties you needs with Kroger supermarkets.
People prefer put foods in refrigerator or freezer in daily their life. Because, while people work a busy and exhausting way, they don't want to cook food. For the reason, they prefer to cook and eat quick and practical foods.
Kroger one of the supermarket chain in USA, are published frozen foods with sae prices for people's needs and tastes. Fron pizza to meal varieties, meat to seafood, breakfast to appetizers, fruit or vegetables to deserts and moreover.
Here are the frozen foods price list:
DIGIORNO® Pepperoni Rising Crust Frozen Pizza: $7.99
Deals price: $7.49
Tony's™ Pizzeria Style Pepperoni Frozen Pizza: $3.99
Deals price: $3.79
DIGIORNO Three Meat Frozen Pizza on a Rising Crust: $7.99
Deals price: $7.49
Tony's™ Pizzeria Style Cheese Frozen Pizza: $3.99
Deals price: $3.79
Stouffer's Classics Lasagna with Meat & Sauce Family Size Frozen Meal: $13.49
Deals price: $12.99
Stouffer's Large Family Size Chicken Alfredo Frozen Meal: $13.49
Deals price: $12.99
Farm Rich Homestyle Meatballs: $8.49
Deals price: $5.99
Kraft Mac N Cheese Macaroni and Cheese Kids Frozen Meal with Chicken Nuggets & Broccoli: $4.79
Deals price: $2.79
Amy's® Macaroni & Cheese Frozen Meal: $4.79
Deals price: $3.50
Amy's Gluten Free Rice Mac & Cheese: $5.49
Deals price: $3.99
Hot Pockets Deliwich Frozen Cheddar & Ham: $7.49
Deals price: $5.99
Boca Original Vegan Veggie Burgers: $11.99
Deals price: $9.99
Tyson® Any'tizers® Popcorn Frozen Chicken: $10.99
Deals price: $9.99
Budweiser Meatballs Frozen Meatballs: $8.49
Deals price: $5.99
Tyson® Grilled & Ready® Fully Cooked Grilled Chicken Breast Strips: $10.99
Deals price: $9.99
Eggo Homestyle Frozen Waffles Family Pack: $6.29
Deals price: $5.99
El Monterey Egg Applewood Smoked Bacon & Cheese Burritos: $10.99
Deals price: $9.99
Delimex White Meat Chicken Corn Taquitos Frozen Snacks: $16.99
Deals price: $10.99
Budweiser Beer Batter Fried Pickles: $7.29
Deals price: $6.99
Private Selection® Frozen Blueberries: $13.99
Deals price: $9.99
Kroger® Traditional Favorites Super Sweet Corn: $1.25
Deals price: $1.00
Kroger® Traditional Favorites Green Peas: $1.25
Deals price: $1.00
Kroger® Meal-Ready Sides Peas & Carrots: $1.25
Deals price: $1.00
Kroger® Traditional Favorites Cut Green Beans: $1.25
Deals price: $1.00
Kroger® Traditional Favorites Broccoli Cuts: $1.25
Deals price: $1.00
Kroger® Original Whipped Topping: $2.19
Deals price: $1.79
Simple Truth™ Apple Crumble Blossoms®: $3.99
Deals price: $3.50
Simple Truth™ Vanilla Skyr Cheesecake: $3.99
Deals price: $3.50
If you want to look products detailed with website link: http://www.kroger.com/pl/frozen-foods/19?keyword=SeasonalLowKROShopAll2291&monet=promo&pzn=relevance&query=SeasonalLowKROShopAll2291&searchType=mktg%20attribute&taxonomyId=19&fulfillment=all