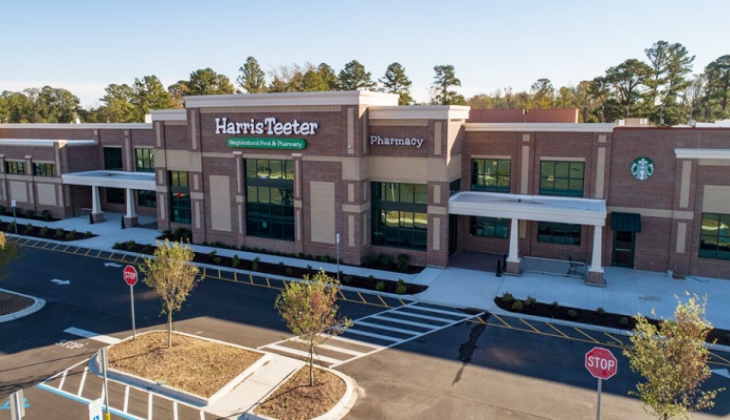 Did you do shop for your household needs? Then, we can say new a campaign news you with Harris Teeter supermarket's weekly ad. Don't be late for these deals.
Harris Teeter one of the famous and affordable supermarket chain in USA, are published weekly catalog on Oct 5th to Oct 11th, 2022 dates for people who want to buy needs with deal prices. This catalog products are involved meat, seafood, and chicken varieties, many snacks or beverages, dairy and dairy products, general cleaning materials and more a lot of products.
If you need to any thing, you shouldn't buy before come and look in Harris Teeter supermarkets.
Here are the Oct 5th to Oct 11th, 2022 weekly catalog products price list:
Harris Teeter Whole Beef Tenderloin: $11.99
USDA Choice Whole Beef Tenderloin: $12.99
Farmers Market Clementines: $2.99
Farmers Market 10 oz. Cherubs or 16 oz. Campari Tomatoes or Select Fresh Express Salads: buy 1 get 1 free
Smithfield All-Natural Boneless Center Cut Pork Loin Chops: buy 1 get 1 free
Fresh Foods Market 8 pc. Double-Dipped Fried or Baked Chicken: $6.99
Farmers Market 16 oz. Baby Carrots or 8 oz. Whole or Sliced White Mushrooms: $0.99
Farmers Market Carving Pumpkins: 2 for $12.00
Coca-Cola or Pepsi Products: buy 2 get 2 free
Lay's Snacks: buy 1 get 1 free
48 oz. Harris Teeter All Natural Ice Cream or Parlor Creations or 16 oz. HT Traders Pints: buy 1 get 1 free
Danish Creamery or Challenge Butter: $4.49
Peet's Coffee: $7.99
12-14 oz. Mid-Size Big G Cereal or 6 ct. Crunchy Nature Valley: 2/ $6.00
6-8 oz. Sargento Shredded Cheese or 8 oz. Cabot Chunk Cheese: 2/ $6.00
Progresso Soup: 2/ $4.00
Wild Caught Dungeness Crab Clusters: $9.99
Cheez-It Crackers: 2/ $6.00
Eastern Shore Style Crab Cakes: $3.99
Harris Teeter Purified Water: 2/ $5.00
Cooked Lobster Claws: $9.99
Coffeemate Creamer: 2/ $7.00
Wild Caught Haddock Fillets: $10.99
Snyder's of Hanover Family Size Pretzels or Seasoned Pieces: buy 1 get 1 free
Chips Ahoy!, Oreo or BelVita: 2/ $6.00
Wild Caught Flounder Fillets: $10.99
Sparkling Ice: 5/ $5.00
Wild Caught Snow Crab Clusters: $12.99
Harris Teeter Boneless Tenderloin Filet Mignon Steak: $15.99
Oscar Mayer Bacon: 2/ $10.00
Salmon Portions: $5.99
Ground Sirloin: $5.99
Carando Smoked Ham: $4.99
Simply Potatoes: buy 1 get 1 free
Land O'Frost Lunchmeat: $5.99
Harvestland Organic Boneless Chicken Breast: $5.99
Smithfield Bacon: $8.99
Beyond Sausage: $5.99
Smithfield All Natural Whole Boneless Pork Loin: $1.99
Hormel Pepperoni: $3.99
Hormel Mac & Cheese: $2.99
Kellogg's Cereal: 2/ $5.00
Fresh Wild Caught East Coast Head-On Shrimp: $9.99
Fresh Wild Caught Sea Scallops: $19.99
Crab Stuffed Tilapia Fillets: $9.99
Fresh Wild Caught Maine Mahogany Clams: $6.99
Hidden Valley Ranch Dressing: 2/ $6.00
Hatch Chile Crab Cakes: $3.99
Wild Caught Cod Fillets: $10.99
Angel Soft Bath Tissue: $11.99
Green Mountain Coffee: $17.99
Glad Tall Kitchen Trash Bags: $16.99
Hershey's, KitKat or Cadbury Extra Large Chocolate Bars: 2/ $5.00
Finish Dish Tabs: $4.99
SkinnyPop Popcorn: $5.49
Annie's Grahams: 2/ $6.00
Vital Farms Pasture-Raised Eggs: $5.99
Land O Lakes or Goya Spreadable Butter: $3.99
Breakstone's Sour Cream: 3/ $5.00
Crest Toothpaste: $2.99
Breakstone's Cottage Cheese: 2/ $6.00
OGX Shampoo or Conditioner: $6.99
Energizer Max Batteries: $8.99
LOL Surprise Halloween Supreme: $12.99
Morning Star Farms Patties, Crumbles or Strips: 2/ $8.00
Old El Paso Premium Dinner Kits: 2/ $6.00
15.25 oz. Betty Crocker Favorites Cake Mix or 18.3-19.9 oz. Favorites Brownie Mix: 4/ $5.00
16.3 oz. Pillsbury Grands! Biscuits, 8 ct. - 16 oz. Gogurt or 32 oz. Large Size Yoplait Yogurt: 2/ $5.00
Smart Ones Frozen Meals: 3/ $5.00
If you want to look this catalog detailed with website link: http://www.harristeeter.com/weeklyad