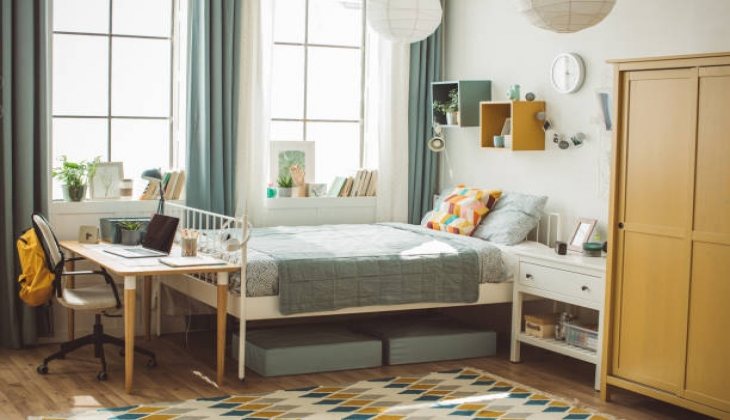 Big Lots companies are start to selling for starting at %20 and up to %50 discounted dorm products and furnitures.
If you think go to a college and need to buy anything dorm supplies, you can come and buy many sale dorm products at Big Lots for your needs. These products are included desks, chairs or ottomans, some small dorm furnitures, school supplies and more a lot of products with up to %50 prices.
At the same time, there are have suitable with modern or sporty designs for anywhere dorm rooms. You shouldn't miss deal supplies for your needs.
Here are the discount dorm products prices:
Window Chalk Marker, 2-Pack: $3.00
Save $1.50 – New price: $1.50
Black Adjustable Standing Tabletop Desk, (32"): $109.99
Save $33.00 – New price: $76.99
Gray Geometric Storage Ottoman: $39.99
Save $8.00 – New price: $31.99
Desk with Fabric Drawers: $119.99
Save $36.00 – New price: $83.99
Dove Gray Student Desk with Hutch: $99.99
Save $30.00 – New price: $69.99
Brown Faux Leather Adjustable Swivel Office Chair: $109.99
Save $33.00 – New price: $76.99
Brown Desk with Hutch: $109.99
Save $33.00 – New price: $76.99
Dorm Essentials Blue 3-Tier Rolling Cart: $39.99
Save $8.00 – New price: $31.99
Gray Fabric Office Chair: $79.99
Save $24.00 – New price: $55.99
Big Joe Gray Mitten Chair: $59.00
Save $17.70 – New price: $41.30
Dorm Essentials Gray Padded Round Back Chair: $79.99
Save $24.00 – New price: $55.99
Fine 8-Color Permanent Marker Set: $5.49
Save $2.75 – New price: $2.74
Black Locker Shelf, (12"): $12.00
Save $6.00 – New price: $6.00
Seven Hills Black Portable Folding Lap Desk: $19.99
Save $6.00 – New price: $13.99
Laser & Inkjet 8.5" x 11" Card Stock, 50-Sheets: $4.50
Save $2.25 – New price: $2.25
Dorm Essentials Oak & White 4-Shelf Bookcase: $79.99
Save $24.00 – New price: $55.99
Natural Square Woven Paper Rope Bin: $15.99
Save $3.20 – New price: $12.79
Page Markers, 10-Pack: $2.50
Save $2.50 – New price: $2.50
Small Teal Pencil Box: $0.75
Save $0.75 – New price: $0.75
Contempo Magnetic Dry Erase Board with Marker & Magnet: $9.00
Save $4.50 – New price: $4.50
Black 3-Piece Stapler Set: $4.50
Save $2.25 – New price: $2.25
Purple & Orange Bath Rug: $10.00
Save $2.50 – New price: $7.50
Multicolor Watercolor Acrylic Tray: $20.00
Save $5.00 – New price: $15.00
Green Artificial Zebra Plant With White Ceramic Pot: $14.00
Save $3.50 – New price: $10.50
If you want to look detailed with website link: http://www.biglots.com/c/weekly-deals/dorm-sale/_/N-118923213?scm=WD_JAS22_VIZNAV_BIGLABORDAY_DORMSALE