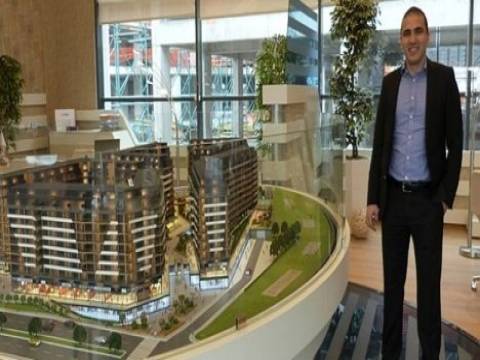 Lens Yapı'nın yönetici ortaklarından Mert Kutlu, projelerinden bahsederek konut almak isteyenler için en uygun zamanın şimdi olduğunu söyledi. Kutlu,"Çünkü 72 aya sıfır faiz imkanı var. Vadeyi firma bünyesinde 120 aya kadar uzatma şansı var" diye konuştu.
Lens Yapı'nın yönetici ortaklarından Mert Kutlu, konut almak isteyenler için en uygun zamanın şimdi olduğu vurgusunu yaptı. İşte Mert Kutlu'nun açıklamalarının tamamı...
Lens Yapı olarak sizi biraz tanıyabilir miyiz?
Biz Lens Yapı olarak 4 ortaktan oluşuyoruz. Ortaklarımız daha önce kendi bünyelerinde birçok inşaat projesini gerçekleştirdi. Aydınoğlu Yapı, Mah İnşaat, Egal İnşaat ve Renium Yapı olarak güçlerimizi birleştirdik. Bölgenin en iyi projesi 33 bin metrekare arsa üzerinde, havalimanına ilk parseliz yaklaşık 200 bin metre kapalı inşaatımız var. Anadolu yakasının en büyük konut projelerinden biriyiz ayrıca 20 bin metre ticari alanımız var. Kapalı bir AVM değiliz cadde konsepti yapıyoruz. Çünkü şunu gördük; artık insanlar kapalı AVM'lerden ziyade açık konseptli AVM'lere yöneliyorlar. Kurtköy bölgesinde şu anda yaşayan 100 bin insan var bu rakam birkaç yıl içinde yaklaşık 4 katına çıkacak. Bunun sebebi de havalimanının ikinci pistinin ihalesi yapıldı. 2019 yılında inşaat tamamlanıp faaliyete geçecek. Bir de burada Teknopark yapılacak. Devletin bu bölgeye ciddi teşvikleri var. Bu yüzden birçok IT şirketi merkezlerini buraya taşıdı. Garanti Bankası da operasyon merkezini buraya taşıyor. Metronun çıkışı da tam buraya oldu. Biz bu arada karşı arsayı da satın aldık. Merkez Bankası'nın da burada bir müştemilatı var. Ne yapacaklarını şimdiden öngöremiyoruz ama neticede burayı değerlendirecekler onunla birlikte burası bayağı bir canlanacak ve hareketlenecek. Baktığımızda bu bölgede boş alan da kalmadı iki tane boş yer var ikisini de biz yapıyoruz. Diğer projemiz bundan daha büyük orası 270 bin metre kapalı alanı olan bir inşaat düşünüyoruz şu anda ruhsat aşamasında. Orası da cadde konsepti olacak. İnsanlar artık kapalı AVM'den uzaklaşıyor. Bu bölgedeki AVM'lere daha çok outlet mantığına uygun olan müşteri kitlesi geliyor. Biz tekstil değil de gıda sektörünün yoğunlukta olduğu, butik mağazaların olduğu semt çarşısı modeli yapıyoruz. Buraya gelip arabanızı park ettiğinizde her işinizi halledip gidebileceğiniz bir yer olacak. 1162 konutumuz var onların da getireceği bir hareketlilik olacak projemizde. Ticari alanlarımızı satmıyoruz. Biliyorsunuz piyasada kötü bir Atlantis AVM örneği var. Bunun nedeni Atlantis'te bütün ticari alanların satılmış olmasıdır. Dükkanı sattığınız zaman orada kendi mixinizi kuramıyorsunuz. Mal sahipleri kendi kiracısını bulmaya çalışıyor. Terzi mesela metrekaresine 5 dolar verirken gıda sektörü gelip 10 dolar verdiği zaman mal sahibi "Ben niye terziye vereyim" diyebilir. Bizim burada bir ticari danışmanımız var. Danışmanımız vasıtasıyla buradaki tüm mixleri biz ihtiyaca uygun cevap verebilecek şekilde dizayn edeceğiz. Projemizde sadece konutlarımız satışta ticari alanlarımız satışta değil. Ticari alanlarımıza şimdiden yoğun bir talep var. Projemizde 1 0 daire modeli yok. 1 1'lerimiz var. Proje yaklaşık 5 aydır satışta şimdiye kadar 140 daire satıldı. Piyasa şartları ve Türkiye'nin içinde bulunduğu durumu düşündüğümüzde bu rakam hiç de fena değil.
Emlak Konut'un kampanyası ile ilgili düşünceleriniz nedir?
Emlak Konut kampanyasına katılan konut projelerinde 240 ay vade geçerli. Bizim projemizde 240 ay vade seçeneği yok. 240 ay vade seçeneğinde alıcıya çok fazla bir faiz yükü geliyor. 240 ay Türkiye'de çok uzun bir süre, insanlar kendilerini çok uzun süre böyle bir yüke bağlamak istemiyor. 120 ayda indirilen vade farkı ve 60 ay sıfır faiz imkanları konut piyasasını daha çok canlandırdı, müşteriler için de bu imkanlar daha cazip oldu.
Projenizdeki ödeme seçenekleri hakkında bilgi verebilir misiniz, Müşterilerinize sunduğunuz özel bir imkan var mı, sizi farklı kılan bir yönünüz var mıdır?
Biliyorsunuz diğer konut projelerinde cazip seçenek olarak öne çıkan 60 ay sıfır faiz imkanı, bizde Yüzde 5 peşinat ile 72 ay sıfır faiz şeklinde süreyi uzattık. İsterse ara ödeme yapabilir isterse firma bünyesinde 120 aya vadeyi uzatabilir. İş Bankası, Garanti Bankası, Halkbankası ile çalışıyoruz. Al Baraka Türk ve Kuveyt Türk Katılım Bankası ile çalıştığımız banka portföyünü genişletmeyi planlıyoruz.
Projenizde teslim tarihi ne zaman peki?
Lens İstanbul projemizde teslim tarihimiz 2018 yılının 7. Ya da 8 ayı gibi olacak.
Peki 1162 konutun hepsini 2018'e kadar satabileceğinizi düşünüyor musunuz?
Türkiye'de son bir yılda yaşanan olağanüstü gelişmeler hiçbirimizin öngöremediği türden olaylardı. Bu süreç tabi ki tüm sektörü olumsuz manada etkiledi. Eğer süreç toparlanma aşamasına gelirse bizim projemizdeki dairelerin tamamını satabileceğimize dair en ufak bir şüphe yok. Çünkü tabela değerimiz yüksek. Bölgenin yola yakın olması nedeniyle buradan yaklaşık 100 bin araç geçişi oluyor. Pegasus'un da özel otoparkı burada. Bütün bunlar göz önüne alındığında hareketli bir lokasyondayız. Metronun da gelmesiyle burada 3 milyona yakın insan hareketliliği olacak. 1 milyon insanın da AVM'mizden yararlanacağını öngörüyoruz. Metronun Sabiha Gökçen ile aramızda 1 durak var. O durağın çıkışı da projemizin önünde. İstanbul'da iki tane aksı E5 ve TEM'i düşünelim. E5 üzerinden çıkan metro Pendik'ten ek hat ile Sabiha Gökçen'e bağlanıyor ayrıca TEM üzerinden Çekmeköy metro hattı da büyük bir kitlenin dağılımını yapıyor. Vatandaş TEM üzerinden de E5 üzerinden de buraya gelip istediği yere gidebilecek.
İnşaat bedeli nedir peki projenin?
Lens'in çok güçlü bir sermaye yapısı var. İş bazlı ortaklık değil uzun vadeli bir ortaklı yaptık. Lens İstanbul'un inşaat bedeli 220 milyon. Ticari alanlarımız ve konutlarımızın satışıyla birlikte projeden beklediğimiz hasıla ise 1.5 milyar. Yani bizim bu bölgeye yaptığımız yatırım bedeli 1.5 milyar TL oluyor. İlk günden bu yana Kurtköy bölgesinin gelişeceğine çok inandık. Anadolu Yakası'nın en büyük kapasiteli projelerinden birisini de buraya yaptık. Çünkü yeni yapılan köprü, yol, kavşak ve havalimanın büyümesi ile Anadolu Yakası'nda insan sirkülasyonu zirve yapacak. Buranın bir rahatlığı da var. Buranın en büyük problemi ulaşımdı ancak Sabiha Gökçen'e ulaşım zordu ama şimdi yavaş yavaş bu algı kırıldı. Burası Kurtköy diye biliniyor ama Yenişehir olarak geçiyor. Yollar geniş, otopark imkanları geniş. Yaşam alanları geniş. Konutlar site tarzında. Ataşehir Finans Merkezi'ne gitmek isteseniz buradan 15 dakika sürüyor. Metronun gelmesiyle birlikte her yere çok rahat gidebiliyorsunuz. Burada konut fiyatları da uygun. Emlak Konut projelerinde metrekare fiyatları 7-8 bin TL'den başlıyor. 110 metrekare net hesaplasanız rakamların ne kadar yüksek olduğunu görürsünüz. Türkiye'de bu fiyatlara ulaşabilecek insan sayısı çok az. Biz burada metrekaresi 3.500 ile 4 bin TL arasında konut satıyoruz. 50 bin TL peşin parası olan bir çift buradan daire sahibi olabilir. 2 bin 300 TL ödeme aylık ödeme yaptığını düşünürseniz burada kira fiyatları 1.500 TL civarında gidiyor. Burada daire alım satım ve kiralama rasyosu çok fazla. Projemizde aylık 700 TL ödeyerek daire sahibi olma imkanı mevcut. Bugün gidip Beşiktaş'ta 2 milyon TL'ye daire alsanız 2 bin TL'ye kiraya verebilirsiniz. Burada 400 bin TL'ye daire alsanız 1.500 TL'ye kiraya verebiliyorsunuz. Hesap ortada.
Projenizden daire alanlar inşaat bittiğinde ne kadar prim yapmış olacak?
Lens Yapı olarak buranın geleceğine çok inanıyoruz. Bugün metrekaresi 4 bin TL'ye satılan yerler 1.5 sene sonra 6 bin TL'ye alıcı bulacak. Yaklaşık yüzde 60-70 civarında bir kar marjı bekliyoruz. Teknopark'ın gelmesi, 2019'da Sabiha Gökçen Havalimanı ikinci pistinin hizmete girmesi, Atatürk Havalimanı'nın 3. Havalimanına kaydırılması, metro projelerinin gelmesi ve birbirine entegre edilmesiyle burası inanılmaz bir lokasyon olacak.
Kimler projenizi en çok tercih etti, şu ana kadar en çok satan daire tipiniz hangisi?
Beyaz Yakalılar olarak tabir edebileceğimiz müşteri kitlesi şu anda projemize yoğun ilgi gösteriyor. Pegasus Havayolları pilotları, Teknopark çalışanları vb.. Şu ana kadar satılan 140 dairenin 110'u 1 1 tipindeki dairelerimiz. İnsanlar burada genelde yatırım yapmak için geliyor. 2 1 ve 3 1 konut satışlarımız ise yüzde 35 civarında. Bu civarda 270-280 bin bandında satılan daireler var ama insanlar 300 bin TL verip Lens İstanbul projemizden daire alıyor çünkü projemiz çok güzel, insanlara sağladığımız sosyal olanaklarımız çok güzel.
Yabancıya konut satışlarınız ne durumda peki, Anadolu Yakası'ndaki konut projeleri yabancı yatırımcı tarafından Avrupa Yakası'na göre daha az tercih ediliyor gözüküyor çünkü satış grafiklerinde?
Sorunuzu Lens İstanbul projemiz özelinde değerlendirirsek, biz henüz projemizdeki bir bloğu henüz satışa çıkarmadık. Biz şu anda Sabiha Gökçen Havalimanı'na en yakın projeyiz. Arap yarımadasından gelen bazı firmalar var onlarla görüşmeler yapıyoruz. Bloğu komple satın alıp yarısını otel yarısını rezidans olarak değerlendirmek istiyorlar. O yüzden bizim buraya talep çok aslında bölgeye de Teknopark'tan dolayı çok talep olacak. Teknopark'ta yerli ve yabancı firmalara ciddi vergi avantajları var, Altay tankı yapılacak biliyorsunuz Türk-Malezya ortaklığıyla onlardan bile ciddi bir talep var çünkü burası havalimanına çok yakın, her şey yürüme mesafesinde.
Konut almak isteyenlere tavsiyeniz nedir?
Şu anda sektördeki durgunluk kampanyalarla aşılmaya çalışılıyor. Konut almak isteyen alıcı için aslında en uygun zaman şimdi çünkü 72 aya sıfır faiz imkanı var. Vadeyi firma bünyesinde 120 aya kadar uzatma şansı var. 120 ay vade farkı makul sınırlarda. Tüm bunlara bakınca böyle fırsat her zaman bulunamayabilir çünkü sektör düzeldiğinde kimse bir şey yapmak istemez. Beyaz eşya almak isteyenlere verilen teşvikler dikkate alınmalı.
Yabancı yatırımcıya 1 milyon dolarlık yatırım karşılığında vatandaşlık verilmesi ve KDV muafiyeti ile ilgili ne düşünüyorsunuz?
Şu dönemde 1 milyon dolarlık rakam Türkiye için yüksek. KDV muafiyeti için de geç kalınmış bir adım olarak görüyorum. Bu düzenlemeler sektörün iyi olduğu 2007-2008 yıllarında yapılsaydı bugün Türkiye'de çok daha fazla yabancı yatırımcı-ev sahibi olabilirdi. 1 milyon dolar sınırının yüksek olduğunu bu rakamın biraz daha aşağıya çekilmesi 500 bin bantlarına çekilmesi gerektiğini düşünüyorum. 1 milyon dolara daire yok bir kere. Almak istese de bu fiyata daire yok. Proje bitene kadar fatura kesemiyoruz mesela. Bu da 1 yıllık bir süreç, ucu açık bir süreç. 1 yıl içinde neler olup biteceğini öngörmek mümkün değil. Bu konuda yabancıya uzun süreli güvence verilebiliyor olması lazım. Kanunları hazırlayan insanlarla sektörün içinde olan insanlar bir araya gelir istişare ederlerse bu sorunlar çok rahat aşılabilir.
Kentsel Dönüşüm projeleri hakkında ne söylemek isterseniz?
Kentsel dönüşüm projelerine belediyelerin bakışı çok olumlu. Biliyorsunuz Türkiye'de 6-7 milyon deprem riskli bina var. Olası bir büyük İstanbul depreminde çok fazla can kaybına sebebiyet verebilir. Bu binalar peyderpey yenileniyor ancak belediyelerin kentsel dönüşüme yaklaşım tarzları farklılık gösterebiliyor. Bazı yerlerde olaya sadece binayı yerine yenisini yapmak gözüyle bakılıyor ancak ben dönüşümün ada bazında yapılması gerektiğini düşünüyorum. Ada bazında yapmadığınız zaman sosyal donatı alanları, otopark imkanları sunamıyorsunuz sadece bina yeniliyorsunuz bu da kentsel dönüşüm değil bina yenileme oluyor. Belediye Kentsel Dönüşümü ada bazında yaparsa proje yapmak daha fizibl hale gelebiliyor, müteahhit açısından daha karlı olabilir. İstanbul'da 1.5 milyon riskli bina var bu binalarda ortalama 4 kişi oturduğunu varsayarsak 6 milyon insanın hayati tehlikesi var diyebiliriz. Bizim şu anda tüm mesaimizi inşaat sektörüne ayırmak durumundayız. Allah korusun bir büyük afet sonrasında olacak can kaybı ve maddi zararımızı telafi edebilmek için 15 yılımızı harcamak zorunda kalacağız. Pendik Belediyesi bu konuda çok iyi destekler sağlıyor. Pendik Belediyesi işin ciddiyetinin farkında. Biz Pendik Belediyesi'nden memnunuz.
Projelerinizde ne kadar kişiyi istihdam ediyorsunuz?
Bizim buradaki 2 projemizde 1.000 kişiyi istihdam ediyoruz. Çalışanlarımıza yönelik oluşturduğumuz kamp sahamız var. Ayda 30 bin metre inşaat alanı üretiyoruz. Karşı arsamızda yaptığımız çalışmayla birlikte 2 bin 500'e yakın kişiyi istihdam etmeyi planlıyoruz. İnşaat sektörü biliyorsunuz Türkiye'de birçok sektörü destekliyor. Bu yüzden hükümetimizin desteklerinin biraz daha artmasını bekliyoruz. KDV oranlarının düşürülmesi olsun, inşaat değerlemesi yeniden revize edilmesi olsun… Sonuçta yapılan her katkı direkt tüketiciye yansıyor.
Lens Yapı Yönetici Ortak Mert Kutlu, sizi biraz tanıyabilir miyiz?
Ben 1989 doğumluyum ve Mah Yapı'yı temsil ediyorum. Uçak Mühendisiyim. Üniversiteyi ABD'de Florida Teknik Üniversitesi'nde (Florida Institute of Technology) okudum. Aile işimiz inşaat olduğu için zaten sürekli işin içindeydim. ABD'den döndükten sonra, masterımı London School of Economics'de yaptım. Türkiye'ye döndükten sonra Türk Hava Yolları'nda çalıştım. Airbus 320'lerde kaptanlık yaptım. Sonra rızkın 10'da 9'u ticarette diyerek ticarete atıldım ama uçmak istesem lisansım hala güncel herhangi bir havayolunda kaptanlık yapabilirim.
İş stresini nasıl atıyorsunuz, iş dışında bir hobiniz var mıdır?
Hobi olarak denizciliği çok seviyorum. İş ortağımız Barış Bey ile küçük bir balıkçı teknesi aldık. Hava güzel olunca ve fırsat buldukça denize açılıyoruz. Klişe olacak ama kitap okumayı severim, Beşiktaş taraftarıyım, maçlara gitmeyi seviyorum.
Hayatta olmazsa olmazınız nedir?
Hayatta olmazsa olmazım dürüstlük. Kimseyi kandırmadan kendini doğru ifade edebilme, yalanı sevmiyoruz, çalışkanlığı seviyoruz. Genel olarak herkeste bulunması gereken ahlaki değerler bizde de mevcut.
Yeni Akit


Önerilen Bağlantılar : 3. Havalimanı, Satışa çıkacak projeler