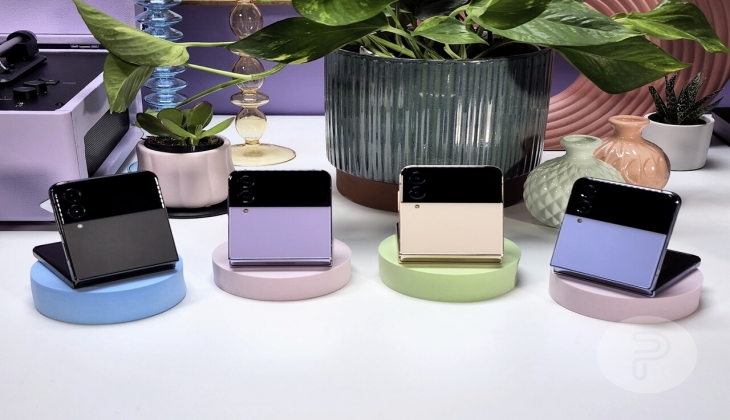 Samsung announced new modern Samsung Galaxy Z Flip 4 foldable smartphone!
The Samsung Galaxy Z Flip 4 features a slimmer mechanism, a lighter weight and cool a design aesthetics. The sides are flat and come with brighter colors, depending on the color you pick up. It features roughly the same dimensions as the previous model.This sporty and elegante new phone has many featureas: main display 6.7-inch, cover display 1.9-inch, materials are glass and aluminium
In addition, 8 GB memory, lux camera option, fingerprint scanner, fast wireless charging, reverse wireless charging, water resistant like a lot of features.
The Samsung Galaxy Z Flip 4 will be offers in a total of 4 color options, these colors: purple, graphite, pink gold, and blue.The Bespoke Edition is selling this year and Samsung will allow customers to choose from many color to customize the look of their new devices.The phone will be offers 3 storage options, these: 128GB, 256GB, 512GB.
What's in the box?
Galaxy Z Flip 4
Data Cable
Ejection Pin
Here are the all Samsung Galaxy Z Flip 4 Prices...
Samsung Galaxy Z Flip 4 Series Price List
Galaxy Z Flip 4, 128 GB Price:1,099.98
Deals price : $999.99 or pay monthly $27.78 for 36 mos or pay in 4 installments $250.00 biweekly
Galaxy Z Flip 4, Bespoke Edition 256 GB Price:1,099.98
Deals price : $999.99 or pay monthly $27.78 for 36 mos or pay in 4 installments $250.00 biweekly
Galaxy Z Flip 4, 512 GB Price:1,219.98
Deals price : $1,179.99 or pay monthly $32.79 for 36 mos or pay in 4 installments $295.00 biweekly
Galaxy Z Flip 4, Bespoke Edition 256 GB Price:1,139.98
Deals price : $1,039.99 or pay monthly $28.90 for 36 mos or pay in 4 installments $260.00 biweekly