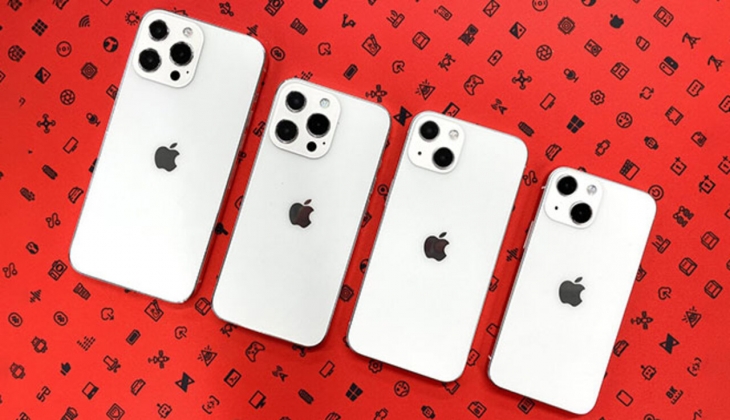 On the iPhone 13 Series with qualified activation and trade-in for AT&T. Save $100 instantly with qualified new line activation, no trade-in required. If you get eligible Apple; iPhone 13 mini, iPhone 13, iPhone 13 Pro, iPhone 13 Pro Max (priced up to $1,600), you can get up to $700 off.
What is the meaning of qualified activation? A "qualified activation" is when you activate the phone on your account, whether it is an upgrade or a new line. It means you can't buy the phone outright and expect to get the deal. You need to wait until the end of the plan otherwise you'll owe the remaining balance on the installment agreement for the device purchased.
Minimum trade-in phone of value $95 required to get up to $700 bill credit. Trade-in phone of $35 minimum value can take up to $350 bill credit.
There are other available carriers like Verizon, T-Mobile and Sprint!
Here are the deal prices:
Apple - iPhone 13 mini 5G 128GB – Midnight, Blue, Red, Starlight, Green, and Pink (AT&T): $19.45/per month, for 36 months; 0% APR; with activation today: $699.99
Apple - iPhone 13 mini 5G 256GB – Blue, Starlight, Pink, Green, and Red (AT&T): $22.23/per month, for 36 months; 0% APR; with activation today: $799.99
Apple - iPhone 13 mini 5G 512GB – Starlight, Red (AT&T): $23.61/per month; for 36 months; 0% APR; with activation today: $849.99- $899.99 SAVE $150 ($4.17/MO.)
Apple - iPhone 13 mini 5G 512GB – Pink, Midnight, and Blue (AT&T): $24.99/per month, for 36 months; 0% APR; with activation today: $899.99 SAVE $100 ($2.79/MO.)
Apple - iPhone 13 5G 128GB – Blue, Midnight, Green, Pink, Starlight, Red (AT&T): $22.23/per month, for 36 months; 0% APR; $799.99; with activation today: $799.99
Apple - iPhone 13 5G 256GB – Pink, Red, Green, Midnight, Starlight, Blue (AT&T): $25.00/per month, for 36 months; 0% APR; with activation today: $899.99
Apple - iPhone 13 5G 512GB – Green, Red, Blue, Starlight (AT&T): $26.38/per month, for 36 months; 0% APR; with activation today: $949.99-$999.99 SAVE $150 ($4.18/MO.)
Apple - iPhone 13 5G 512GB – Pink, Midnight (AT&T): $30.56/per month, for 36 months; 0% APR; with activation today: $1,099.99
Apple - iPhone 13 Pro 5G 128GB - Sierra Blue, Alpine Green, Gold, and Silver (AT&T): $27.78/per month for 36 months; 0% APR; with activation today $999.99
Apple - iPhone 13 Pro 5G 256GB – Silver, Gold (AT&T): $30.56/per month, for 36 months; 0% APR; with activation today: $1,099.99
Apple - iPhone 13 Pro 5G 512GB – Graphite, Sierra Blue, Silver, and Alpine Green (AT&T): $36.12/per month, for 36 months; 0% APR; with activation today: $1,299.99
Apple - iPhone 13 Pro 5G 1TB – Gold, Alpine Green, Silver, Sierra Blue, and Graphite (AT&T): $41.67/per month, for 36 months; 0% APR; with activation today: $1,499.99
Apple - iPhone 13 Pro Max 5G 128GB - Sierra Blue, Alpine Green, Graphite, Gold, and Silver (AT&T): $30.56/per month, for 36 months; 0% APR; with activation today: $1,099.99
Apple - iPhone 13 Pro Max 5G 256GB - Sierra Blue, Graphite, Gold, Alpine Green, and Silver (AT&T): $33.34/per month, for 36 months; 0% APR; with activation today: $1,199.99
Apple - iPhone 13 Pro Max 5G 512GB – Graphite, Silver, Sierra Blue, Alpine Green, and Gold (AT&T): $38.89/per month, for 36 months; 0% APR; with activation today: $1,399.99
Apple - iPhone 13 Pro Max 5G 1TB - Sierra Blue, Gold, Alpine Green, Silver, and Graphite (AT&T): $44.45/per month, for 36 months; 0% APR; with activation today: $1,599.99