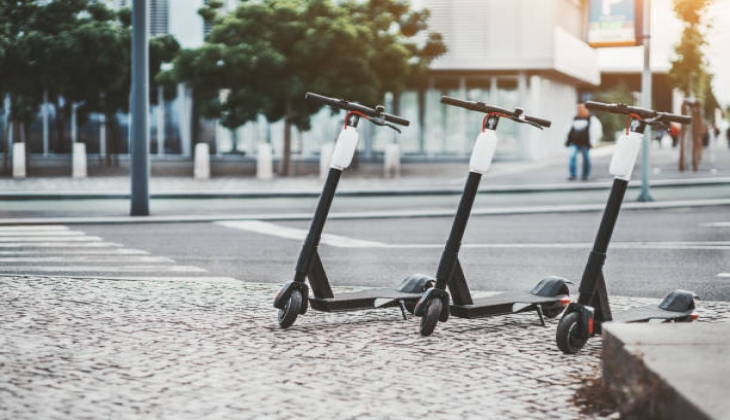 Can pick up the newest model electric scooters with up to 50% discount prices in Best Buy.
Electric scooters one of the most famous type of transportation, are make it easier for people who want to transportation quickly and cheaper. In addition, while people who want to go any where, are prefer security a carriage way, these products are helping protect enviromental cleaning and atmospheric. Moreover, these scooters also are be a option for students who want to go more easy colloge.
Best Buy are announced selling electric scooters with up to 50% sale prices for people who need to.
Here are the electric scooter prices:
Aventon - Pace 500 v2 Step-Through Ebike w/ 40 mile Max Operating Range and 28 MPH Max Speed - Ghost White List:$1,799.00
Save %5
Deals price: $1,699.99
Segway - Ninebot D40X KickScooter plus Seat w/23.6 mi Max Operating Range & 18.6 mph Max Speed – Black List:$849.99
Save %11
Deals price: $749.99
Hover-1 - Astro LED Light Up Electric Self-Balancing Scooter w/6 mi Max Operating Range & 7 mph Max Speed – Black List:$279.99
Save %12
Deals price: $244.99
Segway - Ninebot S Self-Balancing Scooter w/13.7 Max Operating Range & 10 mph Max Speed – White List:$599.99
Save %10
Deals price: $539.99
Hover-1 - Ranger Plus Electric Self-Balancing Scooter w/9 mi Max Range & 9 mph Max Speed- Premium Bluetooth Speaker – Yellow List:$279.99
Save %28
Deals price: $199.99
Hover-1 - Ranger Electric Self-Balancing Scooter w/6 mi Max Range & 7 mph Max Speed- Premium Bluetooth Speaker – Gray List:$199.99
Save %10
Deals price: $179.99
Hover-1 - Highlander Pro Foldable Electric Scooter w/18 mi Max Operating Range & 15 mph Max Speed – Black List:$499.99
Save %4
Deals price: $479.99
OKAI - Stride Electric Bike w/ 40 Miles Max Operating Range and 20 mph Max Speed - Desert Sand List:$1,599.99
Save %6
Deals price: $1,499.99
Huffy Oslo Folding E-Bike w/ 25 mi max Operating Range & 20 mph max Speed – Charcoal List:$1,099.99
Save %50
Deals price: $549.99
Bird - A-Frame eBike w/ 50mi Max Operating Range & 20 mph Max Speed - Stealth Black List:$2,299.99
Save %26
Deals price: $1,699.99
Segway - KickScooter Foldable Electric Scooter w/40.4 Max Operating Range & 18.6 mph Max Speed – Black List:$999.99
Save %10
Deals price: $899.99
If you want to look detailed with website link:
http://www.bestbuy.com/site/top-deals/seasonal-deals/pcmcat1575646065111.c?id=pcmcat1575646065111