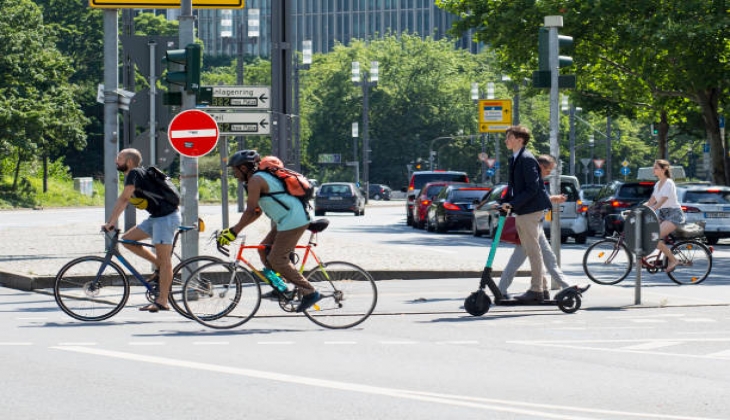 If you want to drive more healthy and more advantages a vehicle, and want to pay less money, we are have a sale news will happy you.
Want to reach to where you're going more easily? So, want to make to this transport by doing less harm to nature? Therefore, they who want to have these needs can have with Best Buy shop's campaign.
Best Buy company is remove to people's the biggest problem, and are published electric transport vehicle with up to $300 discount prices for people who want to and need to transport easily.
Here are the electric transport vehicles price list:
Segway - F25 KickScooter w/ 12.4 max Operating Range & 15.5 mph Max Speed – Grey List:$569.99
Save $ 170.00
Deals price: $ 399.99
Segway - G30Max KickScooter Foldable Electric Scooter w/40.4 Max Operating Range & 18.6 mph Max Speed – Black List:$999.99
Save $ 103.00
Deals price: $ 896.99
Hover-1 - Blast Electric Self-Balancing Scooter w/3 mi Max Operating Range & 7 mph Max Speed – Black List:$119.99
Save $ 21.00
Deals price: $98.99
Segway - F30 KickScooter w/ 18.6 Max Operating Range & 15.5mph Max Speed – Gray List:$649.99
Save $ 70.00
Deals price: $ 579.99
Segway - Ninebot MAX G30LP plus KickScooter Seat w/25 miles max Operating Range & 18.6 max Speed – Grey List:$899.99
Save $ 200.00
Deals price: $ 699.99
Segway - Ninebot D40X KickScooter plus Seat w/23.6 mi Max Operating Range & 18.6 mph Max Speed – Black List:$849.99
Save $ 100.00
Deals price: $ 749.99
Hover-1 - Titan Electric Self-Balancing Scooter w/8.4 Max Operating Range & 7.4 mph Max Speed – Blue List:$349.99
Save $ 122.00
Deals price: $ 227.99
Segway - Ninebot A6 Kids Electric KickScooter w/ 3 mi Max Operating Range & 7.4 mph Max Speed – Black List:$199.99
Save $ 50.00
Deals price: $ 149.99
SWFT - ZIP eBike w/ 37mi Max Operating Range & 19.8 mph Max Speed – Black List:$1,499.99
Save $ 200.00
Deals price: $ 1,299.99
Segway - Ninebot S Kids Self-Balancing Scooter w/8 miles Max Range & 8.7 mph Max Speed – Blue List:$499.99
Save $ 75.00
Deals price: $ 424.99
SWFT - MAXX eMoped w/ 38mi Max Operating Range & 19.8 mph Max Speed – Black List:$1,899.99
Save $ 300.00
Deals price: $ 1,599.99
If you want to look detailed with website link:
http://www.bestbuy.com/site/electric-transportation/all-electric-transportation/pcmcat1545417879756.c?id=pcmcat1545417879756